Portable Biochemical Toilets are the perfect solution for outdoor use in many different situations.
For example:
Construction sites
Festivals
Concerts
Beaches
Military Exercises etc
With biochemical toilets being easily transportable they are ideal in any of the above situations.
Our fully qualified employees make deliveries of Biochemical Toilets and offer maintenance (emptying and cleaning) all over Cyprus.
All our Biochemical Toilets are in full compliance with the European hygiene and environmental regulations.
There are also portable biochemical toilets especially designed for disabled people.
Our Portable Biochemical Toilets are available for both sale and rent.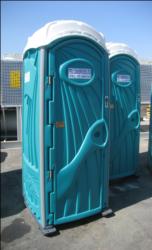 Biochemical Toilets Include:
Toilet
Hand-wash basin
Urinals
Mirror
Soap holder
Paper holder
Dustbin
Coat hook
And Gender design
Our Portable Biochemical Toilets are fitted with a tank filled with chemicals (this is the disposal area).
The chemicals prevent unpleasant smells coming out of the disposal area.
In addition… the chemicals go through the filter and can also be used by the flusher.
For the wash basin there is a separate tank holding up to 70 litres of clean water.
Some Specifics:
Length: 120cm.
Width: 120cm.
Height: 235cm.
Door opening: 190 X 70cm.
Seat height: 50cm.
Waste tank capacity: 295 litres.
Basin tank capacity: 70 litres.